What a scientific consensus would actually cost
 So, there are people in our world who seem fairly certain that the scientific community almost universally agrees on certain things - like the legitimacy of vaccinations, the observability of evolution, the positive potential of genetic modification or some other bogeyman of the century - because huge numbers of them have been "paid off," or otherwise have something to gain by uniting across all generations, countries and research majors to trick us, the poor ignorant masses. A real person really just implied as much to me mere minutes ago; that global consensus on vaccinations, for example, is a symptom of how easily scientists can just be "bribed."
Well, alright. Let's be fair, here. Let's give these theorists the benefit of the doubt and just do some quick simple calculations to test their hypotheses. My math skills are about on par with a toddler stapled to a wallaby, but that's okay, because it doesn't take much more than that to understand anything I'm about to say. I mean, maybe if you hot-glued a horseshoe crab in there, just to be sure!
LET'S GO!!!
Let's make a very conservative estimate that there are a minimum of 6,000,000 scientific researchers in the entire world.
Let's say you bribe 10% of them (or 600,000 scientists) for $50,000 each (close to the average American income for only one year. The cost of one awesome car or one below average house) and all 600,000 scientists are greedy and desperate enough to agree that this is a great deal.
You have now spent 30 billion dollars, or nearly three times the worth of the entire Monsanto corporation.
(a scientist)
You now have 5,400,000 scientists left who did not get any of that succulently sinister bribe money and totally can't buy one hot rod. Absolutely any of these who scrutinize the lie you just paid for, or worse, attempt to re-create the alleged experiments supporting the lie, are going to immediately come up with nothing. Again and again. They're not going to find any evidence of your lie because it is a lie. That's 5,400,000 scientists with no incentive whatsoever to support your claim.
 These would include members of every religion, every culture, every race, gender, sexuality and field. If you think you could trick even half of these people into agreeing on something you made up in the name of your single pet agenda, congrats on the perfection of your magic global brainwashinator. I guess after you fool the world into getting measles shots, you'll be having a zombie slave orgy in a hot fudge mountain on the moon, because that's exactly as easy to make happen.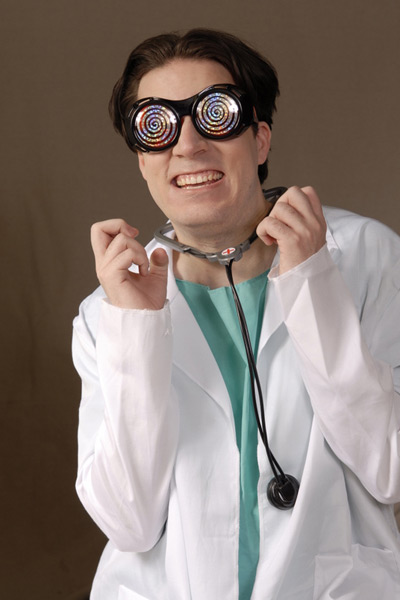 There are actually people - millions of people - who sincerely believe that when nine out of ten scientists believe in Anthropogenic climate change or natural selection, it's because over nine out of ten are gripped by some kind of bias, conspiracy or agenda when that is very literally impossible, just flat-out IMPOSSIBLE, in every single conceivable way.
Only an extreme minority could ever be brought on board to support one big lie. That one guy X politician or X news corporation keeps citing with "shocking new research" that every single scientific journal disagrees with? That's the guy being paid off, as should be evident to anyone who isn't a monumental idiot, and the saddest thing is, they know you only need that one guy because they know you're too lazy and too pig-headed to do any research for yourself. They know you're wired to mistrust the majority and root for whoever looks like the "underdog," and what dog could be undererer than one frantic biologist screaming on a street corner that 5,999,999 other scientists are in on a secret plot to destroy one specific Western god, poison children for no productive purpose and end all industrial progress because oh yeah, they're also all liberally biased hippies for some reason?
milkjamjuice reblogged this from bogleech