The easiest and weirdest check I've ever earned
Apparently, an upcoming film called "THE BAY" has something to do with the tongue-eating parasitic isopod, Cymothoa Exigua, because at some point the film calls for a character to look it up on google images.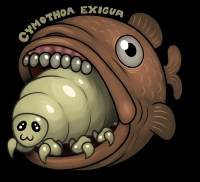 This is why I was e-mailed last year by a representative of the production, asking me to sign a small agreement. A google search of Cymothoa happens to bring up my artwork (which you can order on t-shirts and buttons here), so for the "authentic" google results to appear in the scene, they agreed to pay me a small sum.
I forgot all about this until a couple weeks ago, when I got the check for $200.
So, look for my handiwork appearing among thirty other thumbnails on a computer monitor in a cheesy horror movie about parasites, sometime in the near future, because they didn't feel like photoshopping it out. Works for me!
BONUS: the movie is inexplicably set in Maryland, where I grew up, despite the parasites having never turned up there to my knowledge.
stachioed said: That's actually pretty cool… pretty stupid, but free cash is nice.